Home / Bunny Rabbits / Bunny Rabbits - Hare - 1
Soft Stuffed Toy Animals Store - Bunny Rabbits - Hare
This sub-category of our soft stuffed toy animals store is for bunny rabbits - Hare. There are currently 2 products for you to choose from.
This is page 1 of 1.

To view the details of a product in this sub-category, select it from the list of Hare bunny rabbits shown below.
If you cannot find what you are looking for, use the search box at the top of this page to search this soft stuffed toy animals store.
Stuffed Hare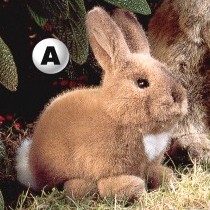 Traditional craftsmanship, attention to detail, and a sense for what is important. Designed and handmade in Germany by Kosen using...

Price: $69.95